Academy Trailblazers: Judd Hirsch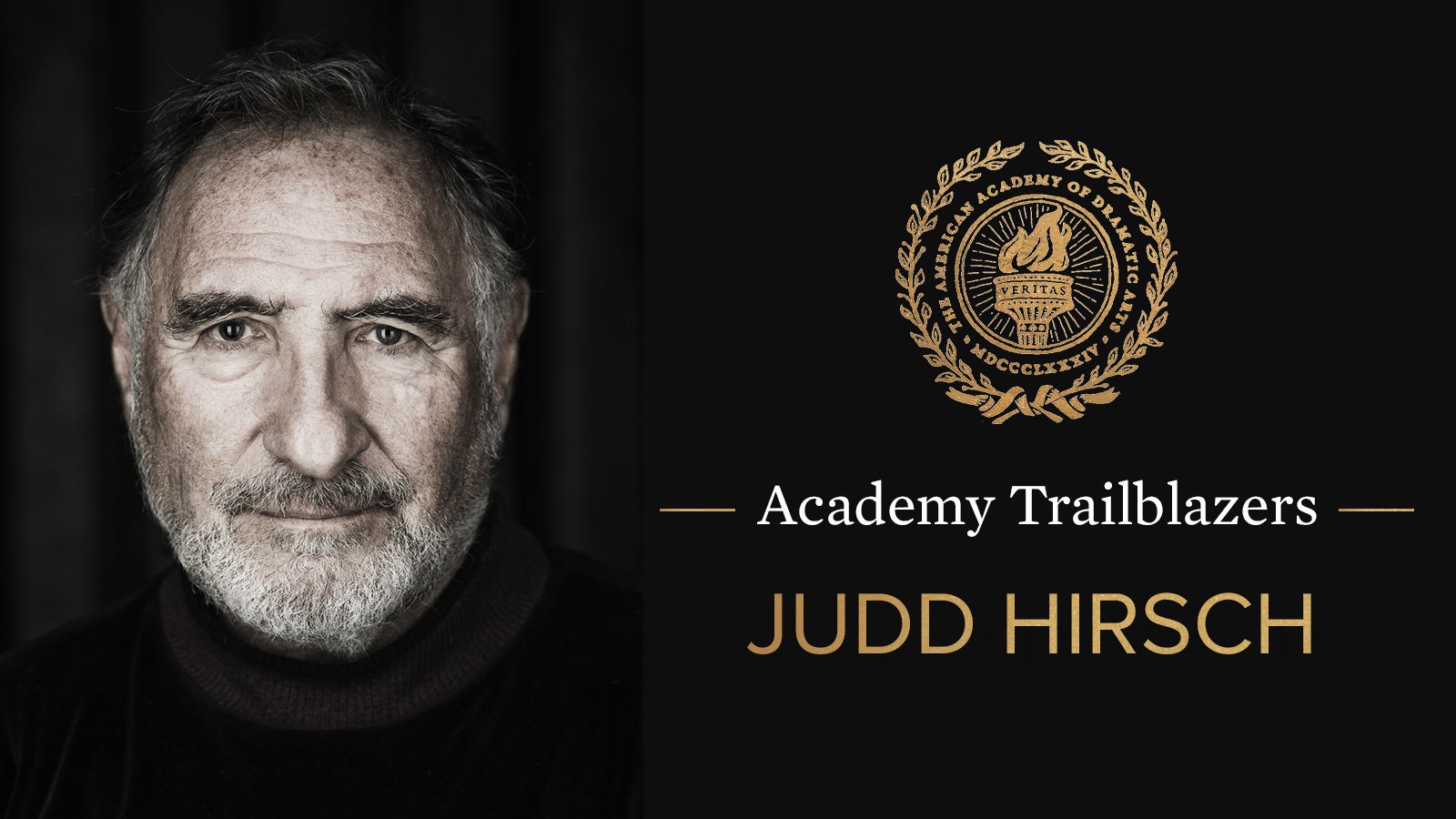 Throughout its history, Academy alumni have been at the forefront of the performing arts, often as trailblazers who have made a remarkable impact on the world of entertainment and beyond. In order to honor these achievements, The Academy presents this series to highlight alumni who have made important contributions to the evolution of acting as a craft.
Judd Hirsch (Class of 1962) is one of the hardest working and most respected actors of our time. Working in theatre, TV, and film since 1971, Hirsch has amassed more than 90 credits on stage and screen. He has co-starred with acting giants such as Al Pacino, Dustin Hoffman, Russell Crowe, Donald Sutherland, Mary Tyler Moore, River Phoenix, Susan Sarandon, Shelly Winters, Cleavon Little, Eric Roberts, Danny DeVito, and Adam Sandler. Judd has also worked under such esteemed, master-of-their-craft directors as Sidney Lumet, Robert Redford, Herb Gardner, Roland Emmerich, Ron Howard, Noah Baumbach, James Burrows, and the Safdie brothers.
Judd Seymore Hirsch was born March 15, 1935, in the Bronx borough of New York City. His mother was a Russian Jewish Immigrant and his father was of German Jewish and Dutch Jewish ancestry. Hirsch did not initially start out wanting to pursue acting. In fact, it wasn't until he was in his thirties that he discovered his love for acting. Shortly after high school, he majored in engineering and physics at City College of New York, followed by a tour in the US Army. After serving, Judd began working as an engineer while finding his first work in the theater. It was then that he enrolled at The American Academy of Dramatic Arts in New York, where he was part of the graduating class of 1962. After graduation, he began working regularly on stage, having his Broadway debut in Neil Simon's audience-favorite Barefoot in the Park. Also, during the late 1960s, he started a comedy trio with Peter Boyle.
In the early 1970s, Judd started securing uncredited movie roles, including one in Sidney Lumet's famous Serpico. Throughout the 1970's he worked consistently in small roles, landing a lead role in the short-lived crime-drama Delvecchio, on both screen and stage. In December of 1977, he finally landed the lead role of George in Neil Simon's Chapter Two, directed by choreographer and director Herbert Ross. This show was a great success and Hirsch stayed with the cast until being replaced in 1978. Coincidently, 1978 is the same year the long-running, popular sitcom Taxi aired its first episode, featuring Hirsch in a lead role as main protagonist Alex Reiger. This show was well-received amongst audiences and ran five seasons with 114 episodes. Hirsch, along with Academy alumnus Danny DeVito (not the first time they worked together, they had appeared on stage together when DeVito played Hirsch's dog) appeared in all 114 episodes.
1978 also brought about the feature film King of Gypsies. King of Gypsies put Hirsch in the role of Groffo, the vindictive father of David (played, in his film debut, by Academy alumnus Eric Roberts). Danny DeVito and Eric Roberts were not the only alumni Hirsch were to work with. 1980 brought with it the acclaimed six-time Oscar-nominated film Ordinary People. Starring alongside Donald Sutherland, Mary Tyler Moore, and Timothy Hutton, Hirsch was directed by Academy alumnus Robert Redford and was nominated for "Best Actor in a Supporting Role" but lost out to his co-star Timothy Hutton. Out of the six Oscar nominations, the film won four, including one for Redford.
Throughout the 1980's, Hirsch continued to work diligently on and off the screen. Hirsch's performance on Taxi yielded numerous accolades, including four Golden Globes and two Emmys during its run. He also had great success on the stage in the two-person show I'm Not Rappaport. Rappaport cast Hirsch as a feisty octogenarian opposite Academy alumnus Cleavon Little. Both took a great liking to each other and when Hirsch won his Tony Award for the show, he insisted Little come up on stage to share the experience with him, saying "I really feel very lonely out here because you can't do a play like this without the other guy." 
His next hit movie, Running on Empty, was released in 1988. Directed by the famed Sidney Lumet, the film also starred Christine Lahti and a young River Phoenix. The film was a critical success, with Roger Ebert giving it four out of four stars. That same year Hirsch got a leading role in yet another sitcom, Dear John. While not quite the ratings success that Taxi had been, it stayed on the air for four seasons garnering two Golden Globe nominations, with one being a win, Hirsch. The show also won one Primetime Emmy Award in 1989, for "Outstanding Guest Actor in a Comedy Series," and the performance of note was from Hirsch's long-time friend Cleavon Little.
Hirsch didn't slow down in the 1990's. With Dear John ending in 1992, he explored an area he had yet to participate in, the summer blockbuster. Hirsch landed the role of Julius Levinson in the Roland Emmerich, Will Smith-led Independence Day. A massive hit, Independence Day was a different pace from what Hirsch normally worked on. It opened to mixed reviews from critics but was a smash hit with audiences, having a worldwide box office gross exceeding $800 million since its release. Then, Hirsch returned to the small screen for the rest of the decade, landing a lead in a short-lived comedy series with sitcom legend Bob Newhart. In March of 1992, he returned to the stage in the triumphant role of Eddie Ross from Conversations with my Father. This role once again put Hirsch on the Tony Awards stage, winning "Best Actor in a Play." 
A Beautiful Mind assembled a powerhouse cast of wonderful character actors - which, of course, would not be complete without the presence of Judd Hirsch. The film's cast included Russell Crowe, in an Oscar-nominated performance; Jennifer Connelly, in an Oscar-winning performance; Christopher Plummer, Paul Bettany, Adam Goldberg, and Josh Lucas. The picture was nominated for eight Academy Awards, winning four, including "Best Picture."
While continuing his stage work in the 2000's, Hirsch landed another recurring television role in 2005's Numb3rs. Running for 114 episodes over six seasons, Numb3rs was a different pace for Hirsch. Instead of it being another comedy show, it was a crime drama where a mathematician helps the F.B.I. solve crimes using math. When Num3ers went off the air, Hirsch refused to slow down; returning to the big screen in 2011 for the Eddie Murphy and Ben Stiller-led heist movie,Tower Heist. Proving that he doesn't take himself too seriously, Hirsch took the role of the cab driver (a little cheeky in itself) in 2014's Sharknado 2: The Second One. Also that year, Hirsch, landed yet another lead role in the very popular, but unfortunately short-lived, mystery-fantasy television show Forever. Speaking on this very different type of role Hirsch said, "[t]he intelligence of the writing just grabbed me. You're playing someone great, you don't know him yet. To develop a character, that's a gift on television."
When news broke that Roland Emmerich was developing a sequel to Independence Day, fans went crazy. Then when it was announced that a lot of the original cast was going to return for the much-anticipated sequel, fans were even more excited. Of course, Hirsch had to be part of the production if it was going to be complete, and so he reprised his role as Julius Leinson in Independence Day: Resurgence. That wasn't the only splash Hirsch made in 2016; he also made a guest appearance on two episodes of the widely beloved sitcom The Big Bang Theory. He loves to tell the story of how he was asked to be on the show: lead actor Johnny Galecki approached Hirsch at a fundraiser and asked him if he would like to be his dad; that he never had a dad on the show and felt like he could be Hirsch's son.
In recent years, Hirsch has continued to add credits to his amazing resume. He participated in Netflix's The Meyerowitz Stories, a comedy-drama film about a dysfunctional family with an all-star cast, including actors such as Adam Sandler, Dustin Hoffman, Elizabeth Marvel, Emma Thompson, Ben Stiller, and Adam Driver. Following The Meyerowitz Stories, Hirsch continued to solidify his reign as a sitcom king when he was cast in the James Burrows show Superior Donuts, based on the Tracy Letts play of the same name. The show, unfortunately, like a lot of primetime comedies, had very little time to really get started and grow, getting axed from the CBS line-up after two seasons.
In 2019 he took part in the Safdie Brother's intense crime-drama Uncut Gems starring Adam Sandler. The movie was a smash hit with audiences and critics alike. Still working consistently on television he made guest appearances on Netflix's Big Mouth and Amazon Prime Video's Modern Love. In 2020 he returned to the role that he created in 2015, of Ben 'Pop-Pop' Goldberg for a few episodes of the family favorite The Goldbergs, and he played real-life Nazi hunter Simon Wiensenthal in Amazon Prime Video's Hunters with Al Pacino. The two acting giants worked brilliantly off each other, creating one of the most memorable scenes in the series.
For all of his credits and popular success, Judd Hirsch has always been an "actors' actor." He has conquered every medium from TV to film to stage and he doesn't seem to be slowing down with projects currently in production. Judd Hirsch should be the kind of actor that all actors and actresses look up to, someone who has excelled in his craft and has always stood by what it means to be an artist.
---
---