The Academy Celebrates Asian American and Pacific Islander Heritage Month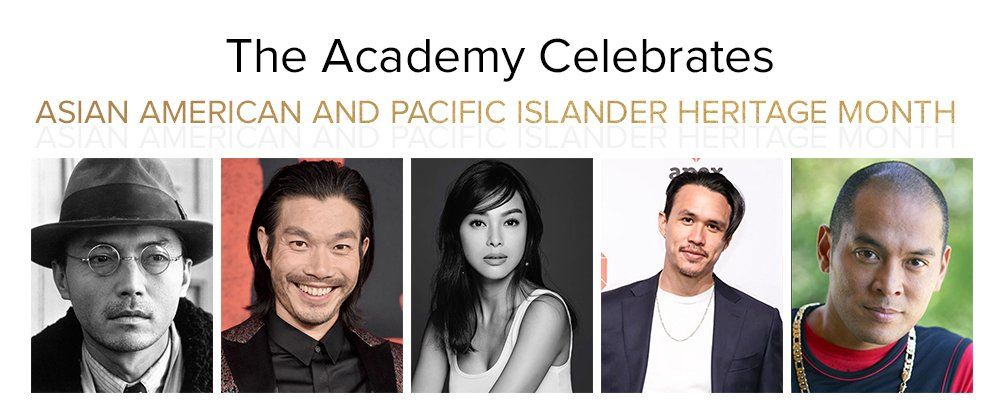 As our celebration of Asian American and Pacific Islander Heritage Month concludes, we spotlight these career stories from AAPI members of our Academy Alumni community. While each of these actors pursued a different professional path, all share in a common passion for craft and a commitment to artistry:
NELSON LEE (Class of 2001)
Nelson Lee (Class of 2001) has found considerable success over the past two decades, working in high-profile projects that have landed him acclaim from critics and audiences alike. Perhaps most notably, Lee played the Chancellor in Disney's live-action remake of Mulan—the hit animated film from the late '90s. The audition process involved Lee screen-testing multiple times over the course of a year until finally getting the news while starring in a play in Pittsburgh.
When he was younger, Lee never imagined he would work professionally as an actor, preferring to see it as a hobby. "It was something I never pursued or thought of pursuing when I was a child because it was too scary, I couldn't even wrap my mind around doing it as a profession," he says. He changed his mind while vacationing in Europe, where, after having studied business and philosophy at university, Lee had an "aha" moment. We're glad he did.
Last year, Lee appeared in 8 episodes of the CW's Stargirl, playing the role of supervillain Dragon King / Dr. Shiro Ito. The series has been renewed for a second season, with an expected release of August 10th. In addition to this, Lee has appeared in HBO's flagship series Westworld, the TNT series Claws, and as Shen in Blade—a crucial role that helped launch his career.
Looking ahead, Lee will star in the upcoming series Five Below - described as "a new take on the meta-human sci-fi genre."
CARMEN SOO (Past Student)
The growth of Carmen Soo's career has been nothing shy of extraordinary. A jack-of-all-trades, she has worked in a variety of different fields, including: entertainment, business ownership, and modeling. The multi-faceted Soo also holds a bachelor's degree in business management, is a fluent speaker of Malay, Cantonese, and English (and is working on her Tagalog), and is also part owner of a boutique located in Kuala Lampur.
Beginning her modeling career at 17, Soo moved to Hong Kong to pursue work in both print and television advertising. She has appeared in several prominent publications such as New Man, V Mag, New Tide GLAM and Nu You.
Soo's acting resume soon filled with work in a wide variety of productions: the Filipino series Your Song, HBO Asia's Dead Mine, the Singaporean horror film Ghost Child, and in the Jackie Chan movie Gorgeous. In 2018, she was thrust into the international spotlight with the role of Francesca Shaw in the world-renowned Crazy Rich Asians. 
A prominent and popular personality, you can also find Soo working as a host on several projects. In 2009, she was a judge on It's Showtime, and in 2010 became a co-host on Wowowee. Additionally, Soo has served as brand ambassador for the international watch brand Longines, and the clothing brand Uniqlo Malaysia.
JOHN LONE (Class of 1978)
Born as Ng Kwok-leung on October 13, 1952 in Hong Kong, John Lone spent the first few years of his life as an orphan before being sent off to train in the style of Peking Opera at Hong Kong's Chin Ciu Academy. The training was rigorous; students were isolated from the influences of the outside world while they learned the ins and outs of classical Peking theater. (He remembers feeling "alone in the crowd.") Here Ng Kwok-leung was given the name "Johnny," later adding "Lone" as an homage to his roots.
Turning down an opportunity to join Maurice Bejart's dance company in Brussels and a decade-spanning contract to make Kung Fu movies, Lone ventured to Los Angeles to work on his English speaking (and acting) skills. It was here that he would attend The American Academy of Dramatic Arts, graduating in 1978. Additionally, Lone would hone his craft further through his work with the East-West Players, the nation's first professional Asian American theatre organization. This blend of training and technique would give Lone a certain poise and grace that few actors possessed, and he brought it right onto Hollywood's silver screen.
Lone has, with great empathy, played the role of Pu Yi in Bernardo Bertolucci's historical epic The Last Emperor, for which he received a Golden Globe nomination, and Song Liling in M. Butterfly, the assumed female lover of the French diplomat, René Gallimard. For the next several decades, Lone would find himself in many high-profile roles across the industry. His career also brought him to work with David Henry Hwang, the American-born playwright of Chinese descent, whose work highlights the role of Chinese and Asian Americans throughout history and to the present. 
ALEXANDER HODGE (Class of 2016)
Alexander Hodge has built a successful career as an actor, starring in a wide range of projects in just a few short years. Born in Australia, Hodge grew up in what he calls the "Brooklyn of Sydney," to a father of Irish descent and a mother of Chinese heritage raised in Singapore. At first, Hodge was drawn to sport—particularly rugby, one of Australia's most popular—and was involved in this until his early adult life.
His relationship with acting began in his teens after his dismissal from a woodworking class. Having the option between taking a drama class or a history class, he would recall that this choice was easy. "I was like, 'I'm not doing history because I hate writing'…I decided to take drama because I thought it was just make-believe. Found out that it's not just make-believe… it was the first class I actually ever got an A grade, so I thought, I may as well keep it up."
Perhaps the greatest accomplishment—thus far—of Hodge's career has been on HBO's Insecure. Cast as Andrew Tan in season 3 of the series, Hodge instantly became a fan favorite, earning the nickname "Asian Bae" across fan forums and a trending hashtag. Hodge views this recognition as a broader sign of progress—Asian men are rarely cast as romantic leads in Hollywood.
Looking ahead, Hodge has a currently unnamed role in director Steven K. Tsuchida's Resort to Love, and a starring role in Painkiller—a new sci-fi series set to air later this year.
VON FLORES (Past Student)
Past student Valentin Andres Tanga Flores IV (better known by his stage name, Von Flores) - a Filipino by by birth - moved across the Pacific at the age of 13, when his family migrated to Toronto, Canada. There he'd stay into his adult life—save the occasional trip to the Philippines to get in touch with his roots.  
His aspirations weren't at all geared toward acting. In his youth, Flores imagined himself attending the United States Naval Academy to learn how to fly—a hobby he took up later in life. In Toronto, however, Flores would study chemistry at the University of Toronto, while taking "acting classes one night every week" to overcome his fear of crowds. There wasn't a showbiz bone in his body—not yet.
He went out on his first audition at the urging of a friend—a Filipino-Canadian he'd met in his acting class. It was for an NBC show called Night Heat that was auditioning local talent for its Toronto shoot. Under the pretense they'd both be auditioning, Flores took off the next day. Lo and behold the friend didn't show, and Flores stumbled into a sea of 300 actors clamoring for a spot. Long story short, he booked the part, and Night Heat would mark his professional acting debut in 1990.
In the decade following, Von Flores would star in over 40 television shows, many of which shot in Toronto. In 1997, his career took a big leap when he starred alongside Aidan Quinn, Donald Sutherland, and Ben Kingsley in The Assignment. After this, Flores continued to gain attention for his on screen work in Canada and the United States. His extensive resume includes work on projects such as Earth: Final Conflict, Kung Fu: The Legend Continues, and Degrassi High: The Next Generation.
You can catch his latest work in Air Emergency as well as the mini-series Rising Suns.
---
---