The Academy Celebrates Hispanic Heritage Month 2022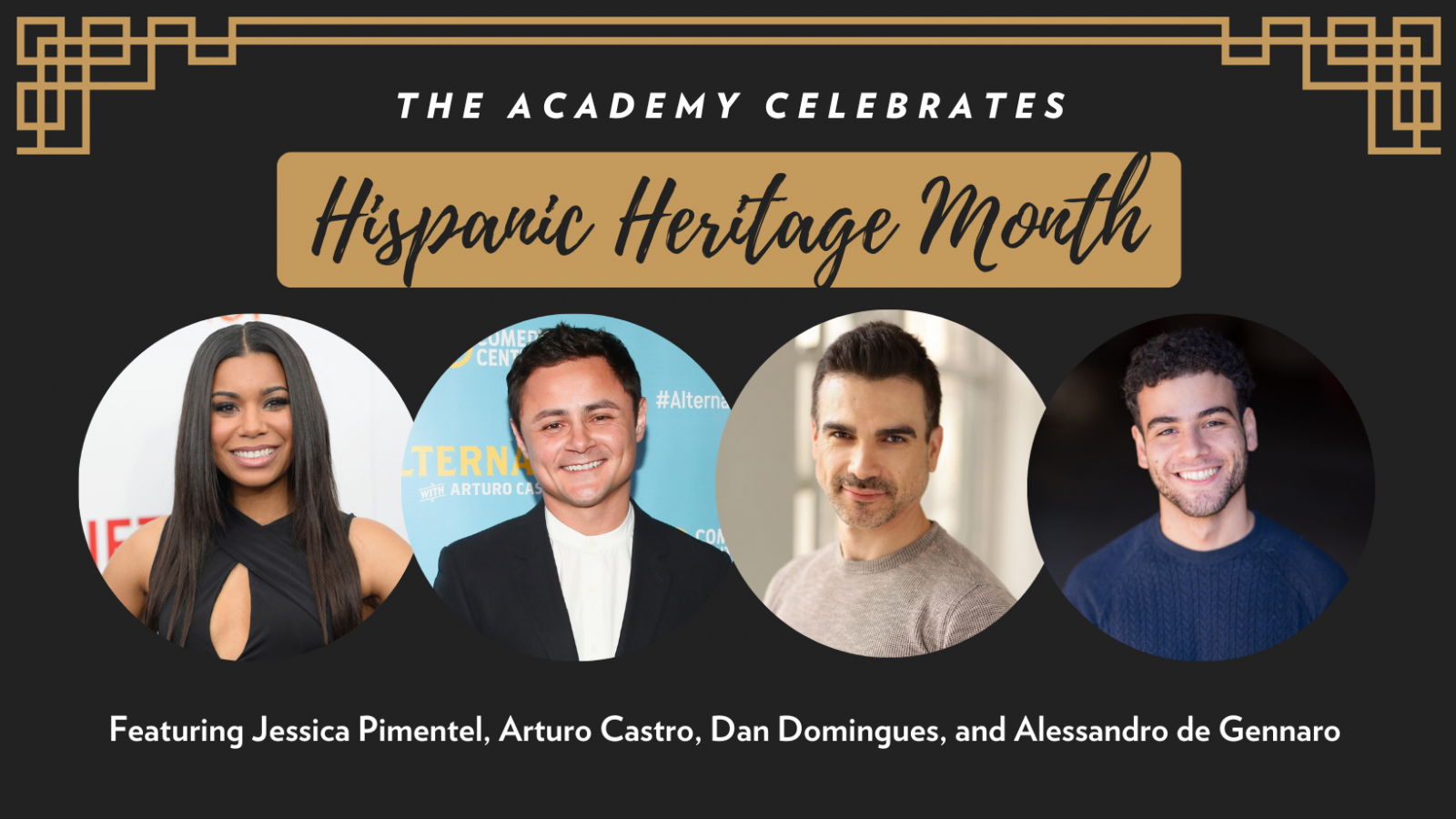 In honor of Hispanic Heritage Month in the US, The Actors Society highlights the careers of Jessica Pimentel, known for her work on Orange is the New Black and the off-Broadway play, Jasper; Dan Domingues, acclaimed New York theatre actor; Alessandro de Gennaro, a 2019 grad whose booked commercials and series, and Arturo Castro, who is, as it was put in a recent Pages article; Una Estrella en Ascenso. 
Below, catch interviews with Alessandro and Dan and accompanying updates on Jessica and Arturo:
A Conversation with Dan Domingues
What did things look like for you post-graduation? 
You know, I left the Academy without an agent or manager, so nobody to work with, nobody to be my champion. I was on my own and just started looking in the want ads. I just started submitting my headshot and doing that natural thing and I eventually booked a children's tour—which is a gauntlet that every young actor should go through, because it really teaches you how to work for some of the hardest audiences you will ever work for.
After I left The Academy, several months later, I lost my father. And so that sort of clouded my post-Academy experience a bit and sort of delayed me, because I was spending time with family. I was taking care of things. I didn't think about acting for a good three or four month stretch. I didn't do any acting. One of the first jobs I got was this children's tour with a theatre company in New Jersey called George Street Playhouse, which is a Lort house, and they have a children's tour aspect and an education department. So I toured with them for 10 months throughout schools in New Jersey. That was a learning experience. I was making almost no money, but it was good to throw myself back into something that difficult. And the man who ran that education program at George Street after I finished said to me, you really should consider going to graduate school. He said, I think it'll give you a leg up. It'll help you, and I think you're ready for it.
I applied for two years straight to a bunch of schools and didn't get in to any of them. I think I applied three years in a row, and then I got waitlisted for the Institute for Advanced Theater Training at Harvard during that third year. I count getting out of graduate school as really the beginning of my acting career.
One of the best parts of that program was getting to live in Moscow for three months. We got to go to the Moscow Art Theatre for three months and study. That was the best part of the program, living in another country, seeing how Russian actors are trained and taught.

Did not having an agent or anyone lifting you up end up lighting a fire under you?
I mean, I was on the search for an agent. In the beginning, do anything that you can find to get experience. You know, stuff that doesn't pay, go to equity showcases, things like that. I don't recommend doing that for too long however, because I feel like you have to put a price on your talent, and you have to show people your value.
Do you have a preferred medium?
I prefer theater because that's what I studied, and that's where I feel most comfortable. But also that's where I've gotten most of my work. I haven't had a lot of success in the TV and film realm. So since most of the work I've done has been in theater, so that's where I feel most comfortable.
What about creating your own content?
You know, that is something that everyone told us when I was at The Academy. We would have people come in and give us these motivational talks, you know, tell us about the business and the thing that everyone said across the board is: don't wait for anybody to give you a job, create your own work. I have not from for the most part heeded that advice. Because I tried to write a few things, and I don't have the discipline to be a writer. I just don't. I'm really more of an interpretive artist and prefer when someone gives me the material and I interpret it. I mean, I've been lucky in that I have gotten to work pretty steadily. And I do foster relationships with directors or writers that I like and want stay in touch with.
Now it's so easy to create content, that there's no excuse not to. My advice would be if you have any other skill in this in this arena besides acting—like if you have an interest in directing, producing, writing—do that, foster that. Do that on the side.
Is there anything that you're particularly drawn to? Anything you avoid?
I mean, I'm more interested in doing new work as far as plays are concerned, and I guess movies too. But as far as what type of work I don't want to do…I don't really put parameters on it. I try to be open. I try to be open to whatever comes my way. Obviously, if there's a script or a play that I find offensive, I don't take it.
How do you feel about representation on stage and on screen?
I think it's an important thing to talk about and to acknowledge that we're still at a place where a lot of actors of color are still not getting the work that they deserve, or that their stories aren't being represented. I also think reinterpreting older plays and including people of color in those plays can be really exciting. I'm a Hispanic actor, and I think am tuned into, I guess, plays and movies that speak to people who speak to stories of people who are Latin or Hispanic.
What keeps you motivated and inspired?
That's a good question, because I'm in a moment right now where I'm where I'm about to start rehearsal for a play, and then I have another play after that. I'm trying to figure out what happens after that—the evaluation every actor does every day. And I think it's colleagues. I think it's getting to work with the people that I work with and getting to work with different people and be in the room with those people because that's like the safest space. It's where I feel most comfortable. I wouldn't want to give up that feeling at all, the feeling of a rehearsal room, or the feeling of being on a set with friends that I couldn't give up like I couldn't change my lifestyle and sit in front of a computer all day. Sometimes that's what I ended up doing.
I would miss that tangible feeling of creating something with other people. And so that's what keeps me going, that's what excites me. I feel like what every actor has is the potential, you know, like what's great about this business is that you could be cast on a TV series tomorrow! It's that sort of excitement or that sort of unpredictability that can also make it like what could happen tomorrow or what could happen next week. And you have to do a lot of work to get there, right? It's not just luck. It's setting yourself up for those opportunities to come your way. It's the unpredictability that kills it, but that's also what's exciting about it.
What's next for you?
I'm working. I'm going to be starting a play next Tuesday. And, in the midst of performing that play, I'm going to start rehearsal for my next play. So something I've never done is for three weeks, I'm going to be rehearsing one show and performing another. A lot of people tell me I'm crazy and that I'm going to be exhausted, but I'm excited for the opportunity. And so then I'm starting a rehearsal for a show off Broadway called Sherlock Carroll, which is sort of a Christmas-themed show where Sherlock Holmes meets Scrooge… it's amazing. We did it last year off-Broadway. It was a big success and they're bringing it back. They hope it becomes a holiday tradition. And so I just love working on Christmas shows because it's like Christmas every day in the rehearsal room. That should get me through January 1 of next year.
A Conversation with Alessandro de Gennaro
You graduated just a few years ago, and I wonder what you've been up to since graduation.
So when I graduated, I started working with Mosaic, which is a management company in LA. I was getting really nice auditions, really good opportunities, and I had an opportunity with Narcos…well, there's a funny story about Narcos. I went for Narcos Season 3, and then I was all the way up there, almost to the end, and then I lost the role to Bad Bunny. The first thing after graduation was a commercial for Taco Bell, and that was a lot of fun.
I remember it.
I kept working with Mosaic. I did a couple of short films, stuff like that. Nothing crazy. And then the pandemic hit, and the first few months were really slow. And then I actually got a manager here in Mexico, and we started getting some good opportunities but didn't book anything. You're always, like, on that edge. And then you just have to keep going and never back down. And just keep trusting that things align the way they align. And the opportunity is always there for you to take. You've just got to keep on positioning yourself in the places where the opportunities are in front of you.
You've worked with some Academy grads quite a bit.
Yeah, for sure. I was just on the second season of Here Comes Your Man. That was great, and the show is getting great reviews – people are liking it. The DVD just came out, so if you're in Europe, you might be able to find an actual DVD.
I will have to take a look at that. What is it that fuels you?
There are so many things now. It's like an automatic thing. Every day I wake up, and it's like automatic. Yeah, it's not something I think about anymore, it's just not. I don't put myself down. I don't doubt myself. If I'm not doing it, someone else will be. If I'm not working hard, someone else who looks just like me will be. So why can't it be me?
We're all born with persistence. Everybody in the world is. It's just a matter of who wants to use it, right? But we all have the same amount of persistence. Like literally, if you push yourself to the limit, I guarantee you, you're going to do it. Because that's persistence. Only you can take that away from yourself. So I always try to stay in a place where I know that persistence is under my control. And it's up to me to put in the work. But if you want something and are constantly going for it and putting your energy into it, it's just a matter of time until you make those things happen for yourself.
How do you put that into practice?
Have a clear vision. I really want to be in the market in the US, and right now, I still want to get those opportunities. How am I going to do that? I'm going to start by getting myself in the market in the US. That's my clear vision. So when you have a clear vision, your life moves around that vision. My manager in Mexico knows this, and before I signed with him, I told him that I'm not going to do telenovelas, I'm going to do this – my main focus is going to LA, to Hollywood. That's what I want, and that's where I'm headed.
What's next for you?
My plan right now is to get my Visa going, to get sponsored in the US. I really want to be there; there are so many auditions and opportunities happening there that I am missing out on. I'm just really looking to be in LA in the next month. You never know what life brings you, you just have to be open to it… go with the flow, I guess.
Career Updates
Jessica Pimentel
The multi-talented actress Jessica Pimentel shot into the spotlight with her performance in Orange is the New Black, the Netflix drama that captivated audiences for 7 seasons. The Brooklyn-born actress can be seen appearing in Law & Order across a decade from 2005-2015, and Person of Interest, the Jim Caviezel-led drama series from the 2010s. In addition to her acting work, Pimentel sings in a heavy metal band, something she speaks of as being an expression of love. Recently, Pimentel starred in the Off-Broadway production, and world premiere, of Jasper, a drama following a troubled couple attempting to keep their marriage intact.
Arturo Castro
Castro's range as an actor is equaled by the countless credits he has accumulated in the past decade. For the sake of brevity, we will attempt to narrow down his extensive career to a few honorable mentions. While working in the New York theatre scene, Castro got his break on Comedy Central's Broad City. Staying with this network, Castro started Alternatino, a comedy sketch series that propelled him into the limelight. The actor can be spotted in Netflix's Narcos, The Informer with Rosamund Pike, Mr. Corman across Joseph Gordon-Levitt, and The Terminal List starring Chris Pratt. Upcoming, catch Castro in The Menu, with fellow actors Ralph Fiennes and Anya Taylor-Joy.
---
---