The Academy Honors Harold and Lillian Michelson, and Celebrates the Launch of The Actors Society Online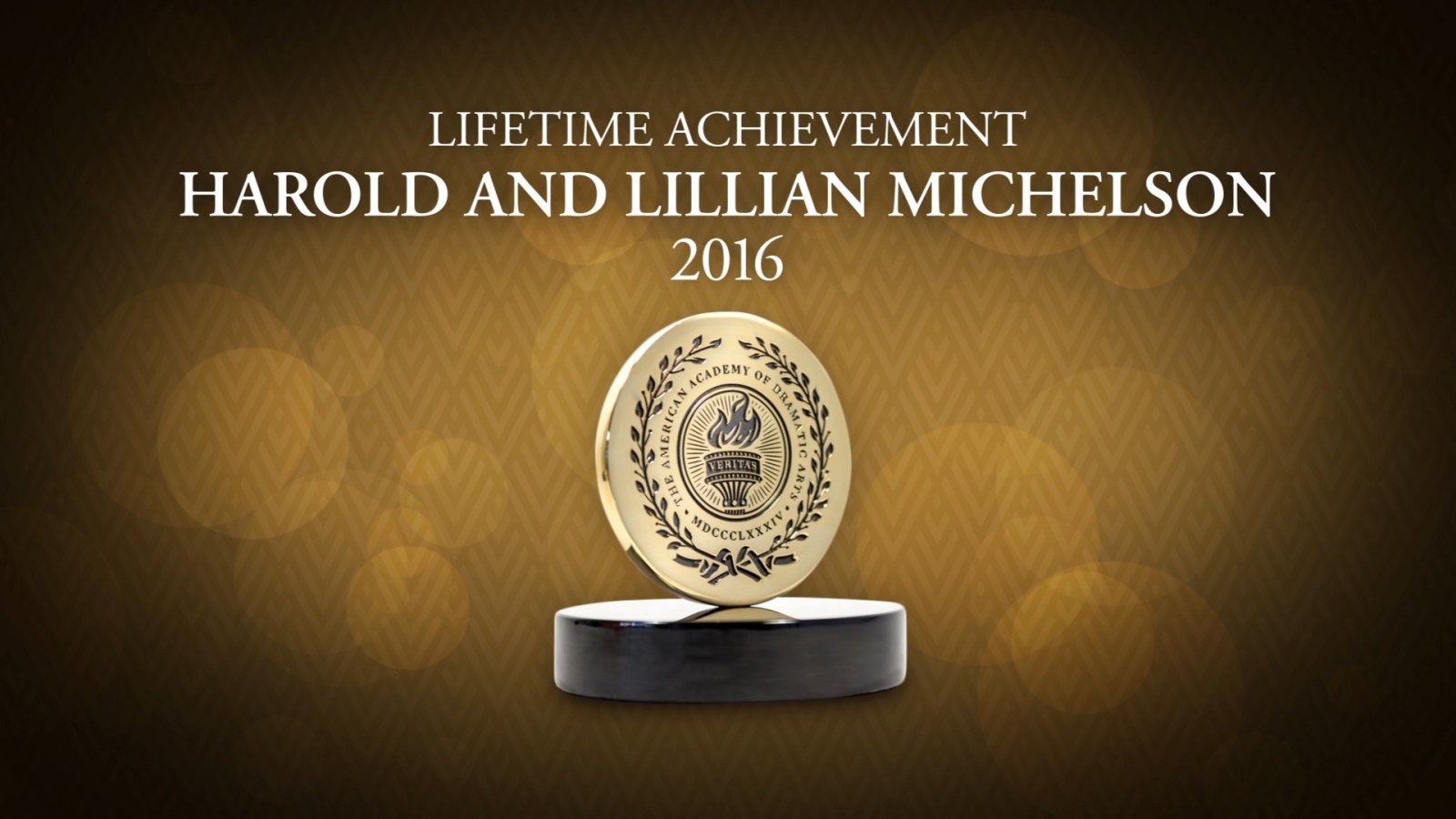 On November 10, 2016 in the heart of Hollywood, The American Academy of Dramatic Arts celebrated the rebirth of its alumni association, The Actors Society, with a truly memorable event.
The inspirational evening welcomed generations of alumni – from one of the evening's honored guests, Class of 1952 alumna Gena Rowlands, to the newest Actors Society members, graduates of the Class of 2016. The event was held at Academy alumnus Robert Redford's Sundance Cinemas and featured an exclusive screening of the award-winning documentary
Harold and Lillian: A Hollywood Love Story,
executive produced by another alumnus, Danny DeVito.
Harold and Lillian
, an official selection of the Cannes Film Festival, is a touching tribute to the loving marriage of legendary storyboard artist Harold Michelson and his wife, feature film research librarian Lillian Michelson. Written and directed by Academy Award-nominated filmmaker Daniel Raim,
Harold and Lillian
is the third in a trilogy of documentaries that explore the lives of behind-the-scenes Hollywood cinema visionaries.
For more than 50 years, Harold and Lillian's works have directly influenced the careers of countless Academy alumni including Ruth Gordon, John Cassavetes, Danny DeVito and Anne Bancroft, in addition to generations of actors and filmmakers across the world. And for the close to 200 Academy alumni who had the opportunity to screen the film with Lillian in attendance at The Actors Society Inaugural Event, there is no question Harold and Lillian's story stimulated ideas for collaboration and creativity for all in the room.
At the event's end, Academy President Susan Zech honored these unparalleled contributions made by Harold and Lillian and presented them with The Academy's Lifetime Achievement Award, marking Harold and Lillian Michelson as the first-ever non-actor, behind-the-scenes recipients. Past award recipients have included Jason Robards, Spencer Tracy, Kirk Douglas, Jessica Tandy and Hume Cronyn, Neil Simon, Julie Harris and Dina Merrill, among others.
For more information about
Harold and Lillian: A Hollywood Love Story,
visit
www.haroldandlillian.com
. The film is slated for its debut theatrical release in 2017.
It is with heartfelt gratitude and respect that The Academy honors Harold and Lillian for their unwavering dedication to storytelling. There is no question that their influences on the film industry have enriched millions – and will continue to inspire audiences for generations to come.
---
---