Academy Trailblazers: Novella Nelson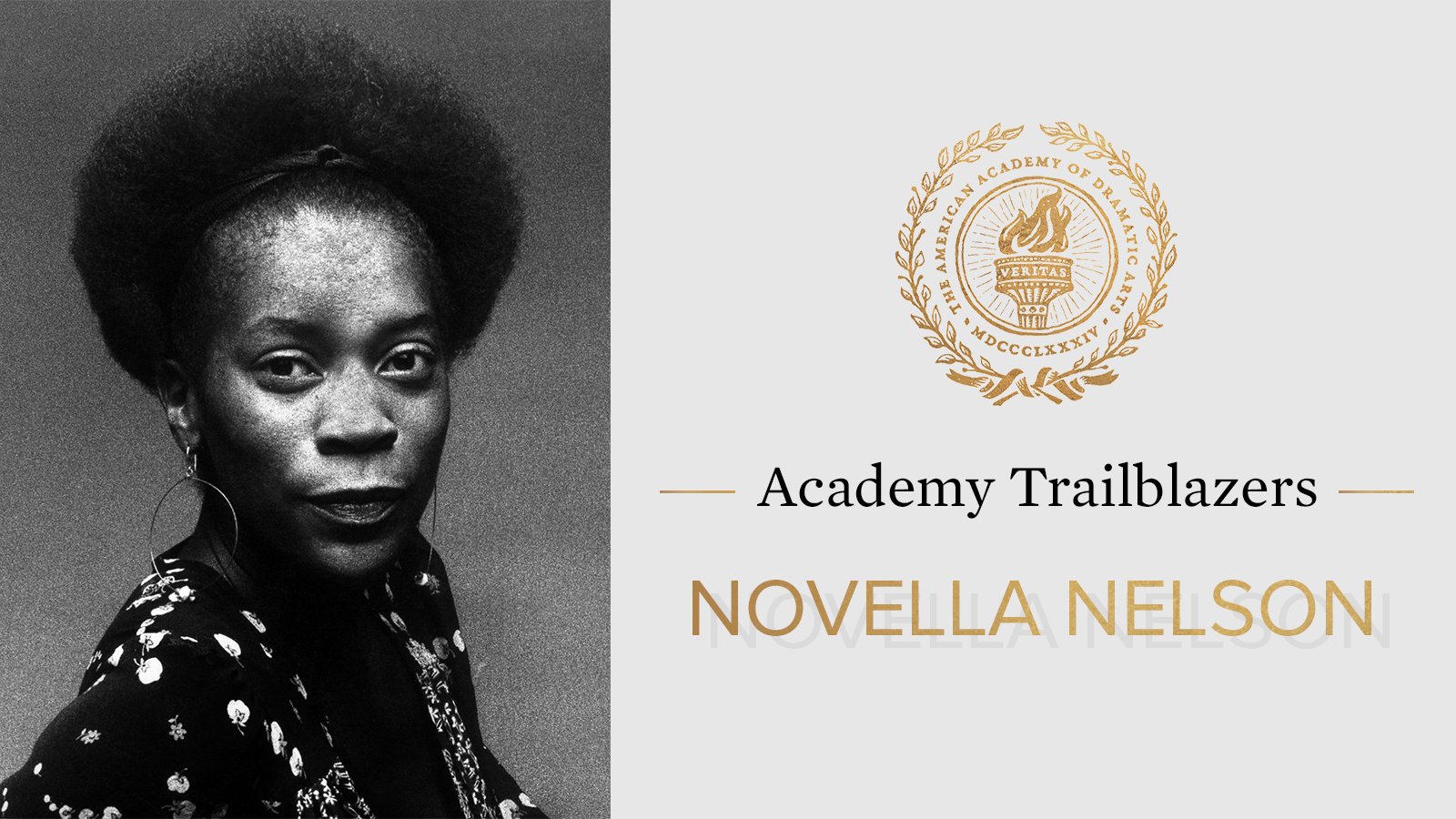 Throughout its history, Academy alumni have been at the forefront of the performing arts, often as trailblazers who have made a remarkable impact on the world of entertainment and beyond. In order to honor these achievements, The Academy presents this series to highlight alumni who have made important contributions to the evolution of acting as a craft.
Brooklyn native Novella Christine Nelson was born in 1939 to parents James, a cab driver and pastor, and Evelyn, an executive assistant at Women's Wear Daily. After graduating from high school, Nelson ventured on to Brooklyn College as the first person in her family to attend and graduate college.
While initially a biochemistry major at Brooklyn College, Nelson found herself involved in a speech class where acting teacher Professor Catherine Myers urged her to play the role of Berenice Sadie Brown in Carson McCullers' play, The Member of the Wedding. Nelson embraced the excitement she found in acting, later recalling, "When I came off the stage, someone had to hold me for a second because it was so extraordinary." She graduated from college in 1958, not as a biochemistry major, but with a theatre degree. Sparked by a growing love for stagecraft, she continued her training at The American Academy of Dramatic Arts in New York.
Nelson graduated with The Academy's Class of 1961 into a rapidly changing theatre scene. In 1967, she became the understudy for Pearl Bailey in the role of Mrs. Dolly Gallagher Levi in Hello, Dolly! on Broadway. Soon after, Nelson would share the stage with fellow Academy alumnus Cleavon Little in Purlie, a musical set in the Jim Crow-era South. Nelson played Ftatateeta, Cleopatra's nurse, in Caesar and Cleopatra in 1977, and Addie in The Little Foxes in 1981, a production headlined by Elizabeth Taylor.
In addition to dramatic stage roles, Nelson was also an accomplished singer, releasing a self-titled album in 1970. She made her cabaret debut in 1968 at The Village Vanguard and performed in numerous clubs throughout New York City. In a review of one performance, The New York Times called her "an unusually polished performer" with a wide range of material. 
In 1970, Joseph Papp, the founder of what would become New York's famed Public Theater, hired Nelson as artistic director of the New York Shakespeare Festival. During her time with the Public, Nelson would produce a critically acclaimed production of Sister Son/Ji and then directed Edgar White's La Femme Noire in 1975. The following year, Nelson played Woman in Brown in Ntozake Shange's for colored girls who have considered suicide / when the rainbow is enuf.
Having made a name for herself onstage, Nelson made her film debut in 1978 in An Unmarried Woman. She appeared in the 2002 film Antwone Fisher, the biographical drama directed by Denzel Washington, and in A Walk Among the Tombstones in 2014, starring Liam Neeson. On television, she portrayed Harriet Tubman in a 1972 episode of You Are There, the CBS News historical series. Film and television work remained consistent throughout her career, including appearances on series Law & Order, Army Wives, Damages, and The West Wing. Coming full circle in 2010, Nelson appeared in the 30 Rock episode, "The Moms" playing herself, hired by the studio to play Tracy Jordan's "mother." The episode contains many playful in-jokes in reference to both the entertainment industry and Nelson's long career.
While Novella Nelson's dual work as a performer and artist behind the scenes wasn't always highly publicized, she brought a passion to her craft and created a substantial career that spanned decades. Successful in both reviving classics and experimenting with new material, Nelson cemented herself as an artist renowned for the ability to bridge past, present, and future. Her work with Joseph Papp in the early years of the Public Theater helped to uplift underrepresented voices in all areas of entertainment. Her career exemplifies empowerment and empathy, and today, she continues to inspire younger actors and artists through her lasting impact.
---
---